On Friday myself and my friend Shannon hopped on a plane and found ourselves in Manchester. The reason for this "exotic" excursion was for the scratch night Girl-ish, presented by No Door Theatre, which would feature a series of short plays focused on what it means to be female. One of the pieces, Conversations with Myself, had been written by Shannon and seeing I was the one who convinced her to submit it in the first place, we found ourselves making the journey up t'North.
The event was held below Solomon's Cafe Bar in Withington, a really nice and quirky bar that served beer and amazing pizza (So that was me sold), and also did a two for £10 deal on cocktails (which has forced Shannon to drop out of University and promptly move in). Now I had never been to a scratch night before, so I had no idea what to expect. Granted I have over the years submitted many a short play to scratch nights across the country and sadly gotten nowhere. Then my friend Shannon comes along with her first ever script and gets an acceptance and a performance on her first bloody attempt!!!
Jealous? Me? Not at all, whatever gave you that idea?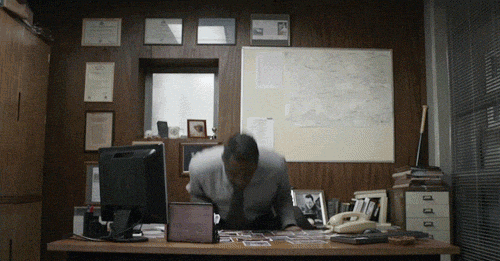 To be fair in all seriousness her play "Conversations with Myself" was incredible and well deserved to be performed as part of this incredible night, and I am beyond proud of what she has achieved.
Like I said, I've never been to a Scratch night before, but if all of them are like this, then my God please sign me up for more. All 11 plays were written by, directed and acted by a incredibly talented group of women, all of whom able to create engaging, funny, thrilling, dramatic, and emotional pieces of theatre. Themes and issues ranged from pregnancy scares, conception, abuse, the voices in our heads, equality in the media, the list goes on. There was such a great variety on offer, with such a plethora of talent to deliver it to the lucky ones able to cram themselves into such a small venue. As the night went on I often thought these plays were too good to be limited to such a small space, they should be out there on the biggest plays for all the world to see, but come the end of the night I realised that there couldn't have been a more perfect venue  than underneath this Bar. With no sets, fancy tech, minimal props, and such a small space, No Door Theatre really stripped down to the bare bones of theatre, creating a truly intimate experience that made you feel truly lucky and privileged to be able to experience it.
When stripped down to the bare bones of theatre, doing away with all that showy technical stuff, all you are left with are the character(s) and the words. Some truly amazing characters came to life before our very eyes, and some mighty powerful words were delivered. They made us laugh, they made us think, they moved us, they made us uncomfortable, they made us mad, they made us cringe, but most importantly they entertained us.
Girl-Ish alone was 100% worth the flight from down south we took to get there. It was a truly proud moment to see my friends play performed as part of this menagerie of talent and it was an unforgettable experience. If it seems like I'm gushing in this blog it is probably because I am, and no doubt I was at the end of the night when getting drunk with the various members of No Door Theatre afterwards (Hopefully I didn't make a bumbling fool of myself whilst trying to be "cool." Oh wait…it's me… I probably did)
If you're in the Manchester area, or even if you're not, and hear that No Door Theatre has a show or another Scratch Night on the horizon then I implore you to check it out.
Speaking of which they are heading to Edinburgh Fringe this year, with another performance of the original play "An Evening with the Voices in Annie's Head." I'll be up there myself with YT2 Theatre's production of Birdland and no doubt I will be dragging them all along to see No Door Theatre.
Dave
Coming up next – What happens after a night of heavy drinking with a load of theatre types? You guessed it! Next weekend sees the return of the Hangover Blogs in my two part Manchester Hangover series!
Be sure to Like No Door Theatre on Facebook and Follow them on Twitter